.
COMING SOON. Europe's Biggest Battle Since World War Two.
There can be no doubt now that Putin's mad notion of a quick 2/3 day war (see note at bottom) to "Liberate" Ukraine, is well over. That idea, he had, has proved to be an utter failure. At the heart of that failure, is the fierce resistance of the Ukrainian people to hold onto their land – be it democratic ruled or otherwise!
So far, in military planning terms, Putin's war invasion has been an utter failure. He's now had to pile in over 70+% of his entire nation military ground forces. No surprise therefore, to see that even he know realises, he needs to bring in more outside of Russia, foreign forces! What he has so far gained in win, has been terrible by any honest assessment! He has 'taken' a few cities – and remarkably, then lost a few of them again – but overall, the Ukraine state is still largely uninvaded.
Putin's primary plans appeared to be centred around a quick takeover of the main cities – and then everything would fall after that. That was the plan in his dreamworld. In Ukraine, on the ground, reality would turn out to be far different.
.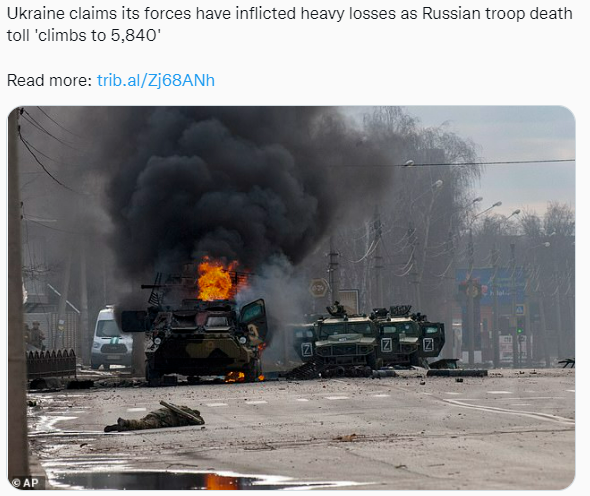 Within three days Russia's mighty forces become not only bogged down but within five days, also became vastly under-resourced. This could be evidenced by the number of Russian tanks and other vehicles that have run out of fuel, only to be then left abandoned at the sides of roads into the Ukraine state. A good deal of phone taken videos/pictures are available for all to view of these abandoned weapons and transports. One video even has a brave, cheeky Ukrainian man asking Russian soldiers if they wanted a lift!
.
Entering Ukraine from one direction alone – never mind the many that Putin is also trying to do, the logistics to keep a 60 kilometre (40 mile) line of military machine and men waiting to go to war, cannot be logistic underestimated. The resources needed to just keep it in existence (fuelled/fed/watered/repairs/etc) – never mind when fighting further breaks out – are staggering in logistical terms, as well as in financial terms.
.
In money terms, Putin's war is now costing his country between €15 Billion to 20 Billion Euro a day. As Russia grows more and more cut off by the day, Putin's state cannot afford this for much longer. His war will most certainly have a recession effect upon the Russian people to some, on the street, public noticeable extent. This in turn by domino falling effect, will mean that calls for his head to be removed from office, will increase. The ultimate end result is that Putin is already government office doomed. It's now not a matter of "IF" but only "WHEN". It might take weeks, months or even a few years – but he has vastly speeded up his own political demise.
.
Meanwhile, back in the Ukraine as they continue to hold out two weeks on into Putin's 2/3 day campaign, every day that passes brings more fortification of cities yet to be invaded. With every day that passes and Russia's forces fail to take their assigned targets, those ready and waiting for them, create even more hurdles to be crossed and lay in wait, armed to the teeth – with more weapons arriving of their own by day and night.
.
.
Numbers.
.
The main target of Putin's war is Kyiv, the state capital. Two weeks on it's still barely been encroached. Indeed, such has been the fierce fighting already, by USA intelligence accounts 9,000+ Russian lives have been lost in the first five days alone. The Ukraine government has stated that 12,000 Russian soldiers have been so far killed. In a fog of war, one intermixed with propaganda spouted by either side battling or their media supporters, it would be an absolute mistake to trust any numbers quoted. That said, even if we were to half the already quoted numbers and then look at the number of Russian lives lost as they even struggled to take Afghanistan, there are some very clear messages.
.
.
Over 15,000 Soviet troops were killed in Afghanistan from 1979 until 1989 – and that was 10 years. If Russia has now lost even 4,500 lives (half of the lower amount assessed) in just one week, the indications are absolutely there that a further massacre of Russia lives is coming as Kyiv and other cites will be tried taken.
.
Why so high a number and so quick? Faster technology. Greater explosive capabilities. Greater targeting ability, faster firing ability, more battle resistant equipment, greater mobile, shoulder resting and firing technology, etc.
.
Consider this, even if they are 'taken', then will come the battle to hold onto each and everyone of them. More thousands upon thousands of Russian soldiers, will have to be poured into every city. …Then there is the fighting that continue right around the massive Ukrainian state. European people see the state on TV maps but do they fully realise the massive size of it? It spans an area of 603,628 km2 (233,062 sq mi), with a population of 41.3 million (2+ million that have now evacuated from it so far). In short, it's massive. For Russia, just to try stay there in it, another mega logistical problem of epic proportions. This alone, will drain the Russian economy for years to come.
.
.
To take the main capital of Ukraine, it will have to be entire surrounded by Russian troops. The numbers to do this successfully range from a minimum of 50,000 to 100,00 depending on which professional military general you speak to. When the Russians took Berlin in World War Two, it took 2.5 million Russian soldiers! There was absolutely massive heavy losses attached to this number.
.
Taking Kyiv alone, is going to be a lengthy nightmare for Putin and Russia. After that, he has to try hold on to it for days, weeks, months, years!  Meanwhile, street to street, guerrilla style warfare will continue every day. Hit and hide, hit and run tactics daily carried out by a people that actually know their city like the back of their hand. Far better than any young teenager sent all the way from Russia, who was told – and they were – people would be waiting to greet them with flowers!
.
.
Kyiv alone in size, is 35km North to south – 25km East to West. Russian troops will need to create a cordon of 96km just to thin surround it. Then they have to logistically keep it up and fortified – all the while fighting will continue. At each point of a cordon, the Russian army has to maintain a protection frontage, it's estimated, of at least 800m for their own further protection. We're talking about tanks, multi-fire missile launchers, air defence, engineers, medics, electronic warfare specialists (to take out Ukrainian military communications), communication specialists for his own army, and massive numbers of ground infantry at every massing point.
.
.
It's one huge life risking and numeric logistical nightmare. Imagine trying to do same for the rest of the cities in Ukraine. Even more lives lost and more logistical nightmares. More civilian lives lost too. More resources needed and burned through. More financial burdens upon the Russian state alone. Given the huge logistical issues, given the huge amount of lives already lost and far more to likely come, given the massive financial cost that will further hit the Russian state and people – it's no wonder that Putin has decided to take from his people, the likes of Facebook, Instagram, Twitter, etc.
.
It's no wonder he has forced many media outlets to close. It's no wonder at all that he's brought in laws that forces his people only to hear what he and his generals have to say. What the Russian people are now being massive deprived of, is more accurate numbers of dead, denied the financial amounts it's costing their state and further going to cost it for years, possibly decades to recover from! It's no wonder that Putin has now embarked upon another war – a lack of information war – and the Russian people are now victims of Putin's war invasion scheme too!
.
.
Further Cold Truth?
.
Putin will have been likely told that the taking of Kyiv is going to be a "meatgrinder" of epic proportions. The like of, has probably not ever seen before in modern history. He will want to try and avoid this. One crazy solution to this, will be the use of chemical weapons. By flying one fighter alone over the city, it then dropping a chemical weapon bomb, the results will be utterly devastating. Gases and poisons will seep into every nook and cranny where Ukraine soldiers will be hiding. However, the same lethal mixtures will also invade every civilian home, hospital, nursing home, shelter and underground basement in epic number proportions. We're talking possible hundred's of thousands lives lost. Even possibly million numbers!
.
.
In order to be use such weapons, Putin knows he absolutely needs justifications to go ahead and use them. What would any mad man do to even try justify their use, even to themselves? Invent justification. Watch as Putin and his propaganda machine will try to do this now?
.
If Putin cannot chemical warfare his way out of a logistical nightmare he ultimately got himself into, his only other recourse for a 'win', will be to utterly devastate the city and state that he says he wants to "Liberate". In short, to the point, he will have to blow the crap out if it. Wipe it off the world map in physical structure. He will have to destroy every nook and cranny of Kviv in order to root out all the enemy installations and soldiers. If Putin can logistical keep it up – something that will be fiercely hard to do – he will have to total destroy a huge European capital. A capital that like the rest of the Ukraine state, he says he wants to "Liberate". No – wait, he said he just wanted to "Liberate" just the Donbas region, so he massive lied there too? Not his first lie…
.
Autocrat Putin Starter Lies.
1. The army is on exercise.
2. We have no intention of invading.
3. We are only 'Liberating' the DonBas region.
4. We are not killing innocent people.
5. We are not targeting non-military targets.
BONUS:
Russian Foreign Minister Sergei Lavrov following talks in Turkey:
"
…In fact, we did not attack Ukraine.
"
.
.
.
Putin with Russian soldiers, with his propaganda machine, with his further information starvation war, with many lives already lost and more to come, has created a modern day, Afghanistan style nightmare. The Ukraine people are suffering one too. The people that live in Russia has stated to suffer a growing nightmare of their own – and worse there too, is yet to definite come – and it will. At home, in Russia, many will look at Putin who ultimately pulled the trigger on this whole mess.
.
Europe's biggest, possible very bloody battle is coming. One way or other, there are going to many death numbers. There will be no quick end to it in days or more. The emotional cost is going to be massive. The destruction cost is going to be further massive. The financial cost to many states of the world is going to be further massive. Many will be looking to Putin with their bill. It's a hell of a price for many to pay, for one man's ego to be allowed continue?
.
Yes, Putin's time is numbered. Another logistic number even he won't be able to escape, in time to come.
.
John Sweeney Twitter Acccount – LINK
NOTE: The tactics/equipment used in the first few days, in military operational practises – military strategy terms – have clear indicated to those with vast military training and long study of such methods, that a blitz tactic was what Putin desired – and tried to carry out.
.
.
---
.
The numbers quoted can be independently checked.
The facts within this article can be independently checked.
History is there to be examined and verified.
.