An example facial profile professionally constructed
of an adult of the era, Yeshua was said to exist within.
.
Note: "Yeshua" is the apparent name of "Jesus" as he's more widely known today to millions. Jesus name in Hebrew was "Yeshua" which translates to English as Joshua. Why was Jesus name changed? Because the New Testament was originally written in Greek, not Hebrew or Aramaic. Greeks did not use the sound sh, so the evangelists substituted an S sound. Then, to make it a masculine name, they added another S sound at the end. The earliest written version of the name Jesus is Romanized today as Iesous.
---
.
So, what would happen if Yeshua returned today?
Lets start with the facts from the start. Yeshua was not white of skin colour at all. He never was despite painted as such by misrepresenting artists. Far from it. As he was from the Mediterranean area we all know, his skin would have been far more brown skinned. He was called a Nazorean and a Galilean throughout the New Testament (more info' here). It's stated by the bible that he preached a lot. What about? Too much to all list here, in fact – but here are a few pointers.
Feed the hungry
House the homeless
Welcome all strangers
Care for the sick unconditionally
Love everyone equally without precondition
There is far more to be gained through love than through money
Questions therefore arise.
Would a brown tanned person be unconditionally welcomed today in any state such as Ireland or the USA?
Would a man that has a distain for financial greed, be honestly welcomed by Ireland and USA capitalists?
If Yeshua preached the same today as previously, would his overall ideology be equally welcomed, tainted as 'crazy' or political slandered?
Suppositioning that Yeshua would reappear as human, walking on the planet and not just appearing from a particular sky, floating downwards, where would he first appear? The supposed region of his true birth place? Rome? Washington? Somewhere in Europe? We can only speculate. Should a man turn up saying "I am Yeshua", would he today, be tried to be locked up within 24 hours due to mental health concerns by authorities? Immediate default judged as some deranged lunatic? Be honest. If a man turned up in your local streets claiming to be the reincarnation of Yeshua, would your default thinking be "Yes, I believe him" wholeheartedly? Tell the truth – if only to yourself. Be honest.
Being brutally honest and we must, there would be some or many, that would think
(a) "This man is off his med's."
(b) "Some mental care facility is missing a patient."
(c) "How in heavens name, did this person get into the country!"
(d) Some other non-positive comment or thought.
So, let get back to our three main questions. I shall attempt to answer them from a possible Ireland, and then USA perspective – based on current attitudes exhibited or worded by many people in each of those countries. Remember – we have to be brutally honest here. Not even trying to fool ourselves.
.


.
QUESTION ONE: Would a brown tanned person be unconditionally welcomed today in any state such as Ireland or the USA?
IRELAND: The likelihood is that Yeshua might have a problem even getting to Ireland. If he can do what others have done before him – somehow remarkably slip past many airport armed guards and passport/ticket checking points (there really should be a state investigation as to how the hell this is happening – then proper punishments dished out to the airlines for not stopping it happening), and then somehow still manage to get a plane seat, then "Yes" – he would be likely allowed access to Ireland as an ordinary refugee of foreigner status and likely obvious associated appearance too.
Once again, the far-right fanatics will be up in arms about this. They would be demanding to know if he was vetted? It will give them another target to blame all the ills and problems (including crimes) of Ireland at such people's doorstep (if they had one). If Yeshua was given refugee status and gifted a tent to street live in (till he got better accommodation), Yeshua could be taking his chances because other ill-acting, unlawful acting fanatics might burn his tent too – while Garda again stand around, protecting little – and arresting even lesser thug pyromaniacs! If it's a Fianna Fail, Fine Gael or Green Party government, they will likely again deny that it's their fault, that they "cannot interject in policing matters" (they having done it previously but you're not meant to remember that) – and they will again wash their hands of the whole matter even though they are the ruddy government and head of all the state departments.
.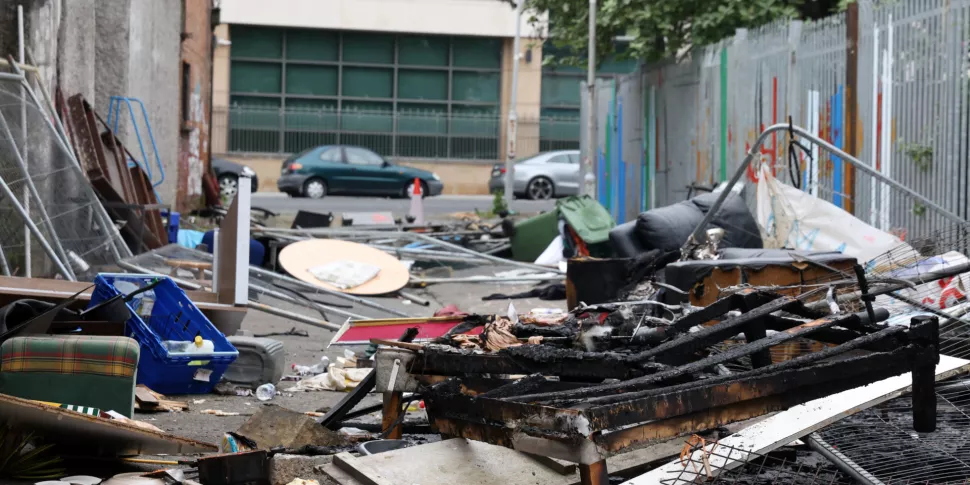 .
A good number in Ireland – let's be honest – would more quietly grumble about "another foreigner" being let in. Some, again thinking or attempting to taint with 'that wide brush' that "He/she must be a criminal" by default. However, in Ireland, there would be more decent and understanding people too, recognising that another person is just seeking a better life. The latter do actually exist. They are just afraid to open their mouths a lot of the time because the thugs and fanatics of Ireland have them silenced by their intimidation tactics. Tactics they will deny doing – it's what they also do – but we all know the ultimate truth.
USA: If Yeshua managed to slip across a border into the USA without getting caught, kudos to him. If caught, he will be joined by others in a holding location, guarded by soldiers and/or USA police, until nearly everyone can be processed and then majority sent back to wherever they had just come from. The fanatic part of the Republican's will be delighted (cue: singing dancing and whooping, while they rave on about their guns) and the Democrats will be in still two minds, as to if they are doing the right thing or not!
.
QUESTION TWO: Would a man that has a distain for financial greed, be honestly welcomed by Ireland and USA capitalists?
IRELAND: We can only 'gustimate' (guess and approximate). Decent Ireland people – and they thankfully do exist – I suspect, would actually agree a lot with Yeshua saying the same things as previously. Part of the reasons many would agree with him, is because of the decades of past and apparent still continuing corruption and non-accountability antics of rotten elected still found within the usual culprit parties that protect their own, even to this day. Many believe in Ireland that corruption in political (and their mates) circles is still alive and kicking. Every month The Ditch (LINK), The Village Magazine (LINK) or The Phoenix magazine (LINK) exposes more – but most of it is RTE censored (as usual) from being greater public exposed.
The usual national newspapers that look after Fianna Fail and Fine Gael, also stand accused of aiding massive corruption cover-ups by a lot of non-report or non-reporting of full facts. Corruption is now (2023) one of the top five matters that concerns voters in Ireland according to a number of national polls taken. So, "Yes". A lot of Ireland people (I suspect) would still agree with Yeshua on the matter of financial greed. Ireland political heads and their mates, have just got more professional about carrying out their greedy ways and further trying to hide it. The real capitalists of Ireland that over-exploit and mega profit, would certainly object (Monday to Saturday of any week) to the ideology of Yeshua should he mention it today – before they then attend a possible Sunday mass where they would try to fools themselves that they are good Catholics, following Yeshua's bible teachings.
USA: Considering that the USA is the epitome example of a capitalist society in the world, the clear cut answer is likely to be "No". Even "Hell no!!!" We're talking about the ultimate country in the world where you can buy politicians through legalised lobbying, personal and party donations. …Where gun-nut organisations help prop up presidents and many under-ranks of elected representatives, in order to keep their lucrative arms business alone, still going! The extreme mega wealthy of America would turn in their graves, freak out in their Roll Royce cars or go crazy from their million dollar mansions. Both main parties, the Republicans and the Democrats would strenuously object to his ideology. It's just a matter of to what degree, how loud, would each openly, sternly object to any preaching gaining effective traction, that financial greed is bad!
.
QUESTION THREE: If Yeshua preached the same today as previously, would his overall ideology be equally welcomed, tainted as 'crazy' or political slandered?
Ireland: Like previously mentioned, a great deal of Ireland people would likely be wholeheartedly in favour of his messages of share the best of what the world has to give, share love unconditionally, and other life-lessons. There are a small number of elitist, snobs in Ireland, rolling around in their extraordinary wealth who would object and likely call him a 'leftie' of some description. They would see him in the same light as a supporter or member of "People Before Profit". The far-right nutters in Ireland would of course, immediately call him an an extreme left-wing lunatic, a member of Antifa and other useful slandering's they could dream up, just to stop he gaining any further traction with a general public.
In Ireland (like other countries), people are attacked simply because they exist and dare to raise their head up above a parapet of others. By existing and daring to stand for something, no matter how good it would be for all, they get attacked. Why? Simply because they might steal support or even votes, from a public that others wish to gain instead, for their own purposes! So, for that reason alone, the more bitter, vicious and extremists crackpots of Irish society, would unquestioningly slander the hell out of someone porting anything that was not part of their own extremist ideology or end agenda sought.
Right-wing nuts would seek to protect those that have power and money – and want more of each. One of their ways to achieve this, would indeed then be a tactic of tainting Yeshua as a 'crazie' (or similar) and most definitely be politically slandered.
USA: Many decent Americans would actually welcome the ideology of Yeshua. Many, I suspect, already agree with the teaching of the bible and fundamentally still would welcome modern words of similar kind from someone claiming to be a returned Nazorean or Galilean. Sadly, Marica is a place of many open, slap-in-the-face contradictions, and his overall ideology would ironically NOT be welcomed by religious people and groups that ironically, double-standard, attend churches to hear his words quoted from a bible.
Up pops a man saying:
Feed the hungry
House the homeless
Welcome all strangers
Care for the sick unconditionally
Love everyone equally without precondition
There is far more to be gained through love than through money…
After the Republican's leave their Sunday churches, holding onto their bibles and even waving them in the air while saying "Praise Jesus and his teachings",  then then would return home or to their places of next official elected public duty, to admonish anyone modern saying the same (as listed) – before also making them out to be a 'leftie, a commie' and/or backed by a forigne government, out to overthrow the American way of life!
.


.
In fact, this would be more like the twisted version of "Jesus" they would support?
.
Nothing says spread love and "Thou shall not kill" (see note 1. below) than going out and feeding the arms industry by buying a military assault weapon? Anyone that says any different must be a foreign agent, a 'leftie' or a communist? If Yeshua did reappear and speak the same things as he previously did, if he just quoted his alleged previous words from the bible put together over a 1,000 year period, then yes, after he escaped immigrant lockup, convinced enough to again follow him and his ideology, he would still likely be attacked in slanderous terms and likely rendered "an enemy of the state" and called "A clear and present danger" to American society by those that attend mass on a Sunday then go off to a microphone or TV camera – to yet again launch a tirade of abuse towards anyone today, also preaching many of the teachings within the bible Republican's (and others) hand-held in church?
.


.
Many political leaders that use bible belts or religious faithful as a means to their end, would be modern day criticising any human turning up and then saying "Love all unconditionally, share the wealth and welcome all strangers" – before then going off to cut food stamps, gut affordable healthcare, demonise the homeless and further block equality rights.  All of which the Republican party do and seek – when they are not also screaming for greater freedoms of expression, while they call for the banning of book and /or have them removed from public access. Go figure their hypocrisy out. It's head-scratching!
So, Similar to right-wing nutters in Ireland, Yeshua would be indeed likely be equally political targeted, by many for political admonishment – before the admonishers again return to their churches the following Sunday week!
We live in a crazy double-standard, hypocritical world. You are free to disagree.
.
---
.
Note 1. The modern bible says that one of the commandments are "Thou shall not kill". in fact – and this is scholar widely known, the real translation of the original wording stated was closer, along the lines of 'Thou shall not murder'. There's a very important difference that many will with wisdom, be able to spot. Links: HERE – HERE – HERE – and there are many others.
Note 2. This posts is NOT an open or subtle show of support for the Democratic party in the USA. That party too, has many faults, has equally committed war crimes while in power and equally has invaded and warred against other nations (including their own), equally stamping on the rights of indigenous people within borders, foreign and domestic located.